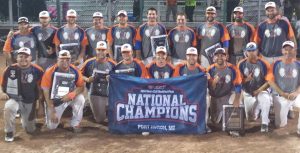 Erie's Pa very own Z's Tavern Blue Ducks won the 2016 ASA Modified National Tournament Labor Day weekend, held in Port Huron, MI.
The Blue Ducks finished with a record of 6-1 overall, knocking off defending champ Boston Sharks twice in a row to claim the championship.
In Port Huron, the Blue Ducks opened the tournament with a 15-2 win over the Longhorns, a local team on Friday night. On Saturday, the Ducks defeated the Jets (Michigan State Champs) 8-5. Later that night, the Ducks took on the Wisconsin state champs, Press Box Blue Sox (who won the National Title in 2014. The Ducks won that game 6-5. Sunday morning the Ducks lost 13-12 to the Boston Sharks (defending National Champs).
So after defeating the New Hampshire State Champs (MJS Construction) 7-6, the Ducks got a rematch with the Sharks. In the opening game, the Ducks won 16-12 to force a winner-take-all game. That game saw several lead changes but when the game ended, it was the Ducks who stood alone as National Champions.
The Blue Ducks softball team was formed in 2002 under the sponsor of Dempsey & Baxter, before getting picked up by Z's Tavern this year in the Harborcreek League. The Blue Ducks now have 38 tournament wins overall, but this is the first National Championship in team history. They are also the first Pennsylvania team to win a title in 15 years.
All American Players were: 1st team: Mike Quinones, Dan Bertolini, and Tony Cruz. 2nd team: Brian Dewey, Jason Bartlett, and Austin Alonge.
Full Roster:
Brian Dewey – Manager, Tony Cruz, Jason Bartlett, Jake Marinelli, Mark Tupek, Dave Konieczki, Mike Fracassi, Dan Bertolini, Mike Quinones, Ryan Nietupski, Tyler Fisher, Ken Menale, Greg Emke, Bryan Colish, Shane Elzer, Austin Alonge, Jordan Fargiorgio, Adam Gray, and Ryan Devore.