The labor day weekend tournament in Drifton Pa was attended by 28 quality teams. Men of Iron (Strasburg Pa) lost their first game to the Staten Island Sour Bullies. Then came back to win 10 straight games against some stiff competition. The finals were against the Brooklyn Storm. In the first game Men of Iron tied the game in the 7th inning with a 2 run home run. Then pushed across a run in the 8th to win 11 – 10. In the "What If" game, the final score was 15 -11. Mike Birney did the bulk of the pitching with Robin Ginder picking up 3 wins as well. Timely hitting, excellent pitching, defense and speed were the keys to their victories.
Men of Iron (Strasburg Pa) 1st Place – Wins – Rainbow Countertop 17 – 2, Dynasty Tigers 16 – 6, Super Flash 15 -9, Bootleggers 13-5, Sour Bullies 13- 5, Maple Grove 9-5, Los Bandidos 19 – 13, Big Hill 9-6, Brooklyn Storm 11-10, Brooklyn Storm 15-11.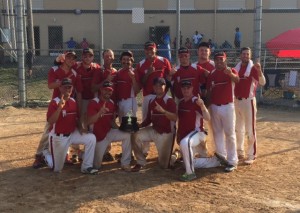 Brooklyn Storm (2nd Place) – Brooklyn Storm was the undefeated team. They beat Sinnis Pub 7-0, Walker Dairy 4-3, Bullies 10-4, Lawrence 9-8, and Big Hill 7-4. Then lost 2 tough games to Men of Iron. Great tournament!!
Big Hill (Minersville Pa) 3rd Place – Big Hill beat Alexa rose 12 -1, Fitness Factory 13-9, Los Bandidos 12 – 7, Maple Grove 5-4. then lost 7-4 to Brooklyn Storm 7-4 and Men of Iron 9-6. Billy Callaghan pitched EVERY inning.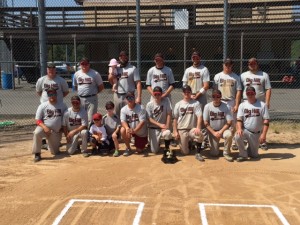 Los Bandidos (Worcester Mass/Providence RI) 4th Place – Los Bandidos beat Lancaster Yankees, then lost to Big Hill 12 -7, then beat Walker Dairy 15 -5, Dollar General Pirates 17 – 8, Lawrence 8 -5, before being knocked out by men of Iron 19-13.