The Shenango Valley Modified Softball League will hold a Father's Day Tournament at the COG Complex in West Middlesex, Pa.,

June 17, 2017

. (Rain date is

Sunday, June 18

).
It will be an ASA-sanctioned 10-man modified tournament. The pitching rule will be strictly enforced — NO SLINGING.
Each team will be guaranteed three (3) games through a combination of pool play and tournament.
The entry fee for the tournament is $295.00. The deadline to enter is June 15 at 10 a.m.
For more information, contact league president Ryan Briggs at 724-748-3718 or via e-mail at ryanbriggs@zoominternet.net
2017 Drifton Sling Modified Classic – July 1-2
ASA  9 Man Modified – Open Pitch Invitational – (Any pitching style except windmill)
Drifton Softball Complex, Drifton, PA
July 1 – 2 (Friday June 30 will be used depending on # of teams)
ENTRY FEE:  $350  –  Double Elimination
Monetary prizes to be determined by number of teams entered.
Non ASA teams can register for an additional $20 fee.
9 Defensive Players
Bunting and stealing allowed
CONTACT:  Joe Costa – 570-590-9602 / umpjoe@ptd.net
Complex address is :   90 First St. or 189 2nd St. Drifton, PA 18221
Lancaster County Modified Tournament – July 29-30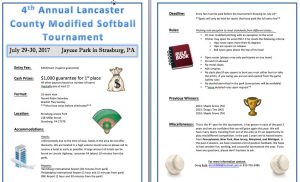 Strasburg Pa., Jaycee Park
For info, contact Doug at dcruhl906@hotmail.com